National and international issues below market value (tickets issued with miles) or with the same value published in the airlines' ticket stock.
Reduction of administrative burden
Get visibility of all routes, requests and costs made by your team, in smart reports.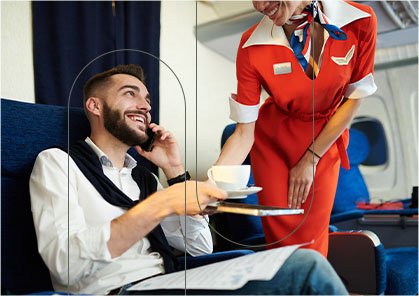 Personalized and prompt service by:
Email, WhatsApp, Phone and the Website.
That way, your team can focus all their efforts on what they do best.
With our corporate travel management plan, your team can focus on what they do best.
We work at all aspects of travel planning: from hotel reservations and ticket purchases to customer support at the chosen destination.
Cancellations and rescheduling
Cancel or reschedule your flight without a headache. We do it for you, at no extra cost, just paying airline fees.
Car, airplane and helicopter rental
Have incredible logistics with smart routes: we rent and charter cars, planes and helicopters for efficient transfers.
We take care of the logistics to take your team to congresses, workshops, fairs, seminars and other events in the business world.
Travel worry-free, with full insurance. We take care of the entire bureaucratic process.
Hotel reservations in Brazil and abroad
We look for the best hotel options for your team to have a premium experience in the destination.
National and international air tickets
We issue tickets with miles for your trip to fit your budget. So your company gets great prices on fares and flies carefree.
We cover the price of tickets that airlines charge on their websites (Azul, Gol, Latam, TAP).
We have service 7 days a week to give you more peace of mind when traveling.
The Skyler has an experienced and qualified team, trained to offer premium service to its employees. Our team always finds the best solutions for your company to travel better and with optimized costs, thanks to an intelligent management system.
In this way, from the mapping of trips, we prepare management reports for you to have a more effective monitoring of the expenses of all trips carried out by your team.
You travel more, better, and with our partnership, your employees are free to focus on what your company does best.